The Original Female Pioneers
The Original Female Pioneers
Posted at 09:00 - 18th March - Sarah Booth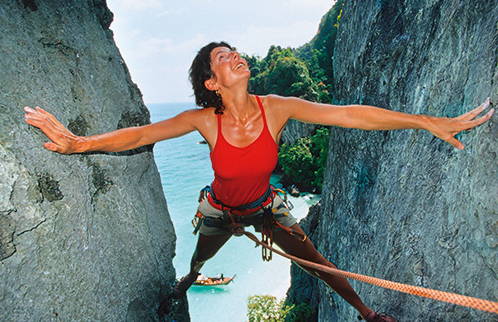 We've had the privilege to talk to some hugely inspiring women through our ACAI Adventurer series. Women who are pushing boundaries and standing up for what is possible in the adventure world. But where did this all start? Who were the original explorers and mavericks?
To celebrate the month that marks International Women's Day, we take a step back in time to look at the women who paved the way for our current generation of adventurers.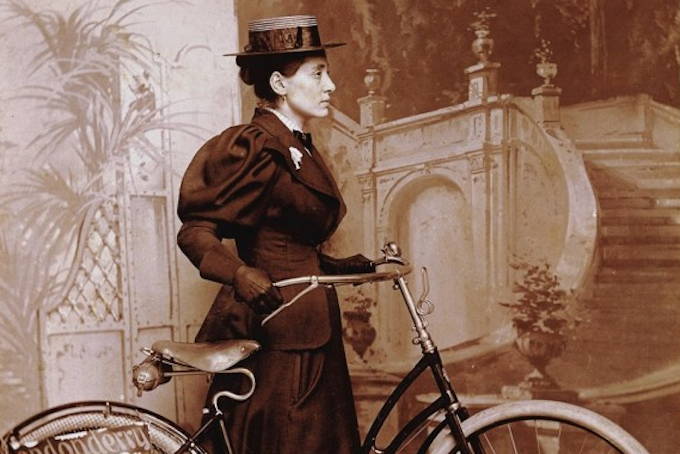 Annie Londonderry
Born Annie Kopchovsky in 1870, Annie was a Latvian immigrant who moved to the United States and reinvented herself as an entrepreneur, athlete, and globetrotter. She became the first woman to cycle round the world in 1894, when she responded to a (potentially fictitious) wager held by two men, that no woman would be able to cycle round the world in less than 15 months. Annie set off on her 20kg bike, carrying nothing but a change of clothes and a pearl-handled revolver, to start an adventure that would take her through Chicago, New York, Paris, Marseilles, Alexandria, Colombo, Singapore, Saigon, Hong Kong, Shanghai and San Francisco.
As a budding entrepreneur and shameless self-publicist, Annie funded her trip by using herself and her bike as a moving billboard, promoting big brands and garnering lucrative sponsorship deals along the way. Not shy of spinning a tall tale or shocking the public by wearing men's suits, Annie attracted a lot of media attention and returned home, not only within the 15 months record, but also as a celebrity in her own right.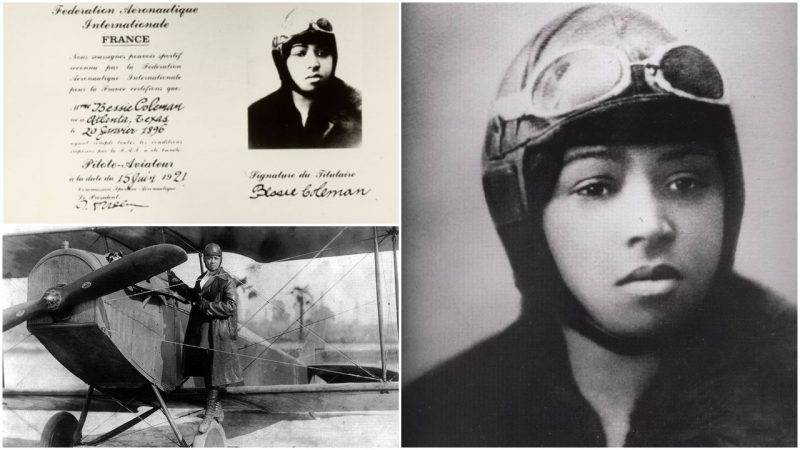 Bessie Coleman
Born in 1892 to a family of cotton farmers, Bessie would walk 4 miles to school to study in a racially segregated, one-room, school in Texas.   Excelling at math, and having been inspired by her brother's service during WW1, Bessie decided that she wanted to be a pilot. Two things stood in her way; women were not permitted to train as pilots, neither were black people. However, Bessie was focused on her mission and saved up enough money to enrol in a French flying school, where she became the first black woman to receive her International Pilots License.
Unable to engage in military service, she returned to the States to become "Queen Bessie" the mistress of stunt flying, performing daring tricks to a growing crowd of admirers. Bessie also used her influence to stand up against discrimination, refusing to perform at any events that were racially segregated and touring the country to give lectures and performances that would raise funds for an African American pilot school.
Tragically, Bessie died whilst testing her new airplane in 1926. Over 5000 people attended her funeral and although she never got the opportunity to open a pilot school herself; William J Powell established the Bessie Coleman Aero Club in 1929 to honour her memory and achievements.
---
Emma Rowena Gatewood
Known affectionally as Grandma Gatewood, Emma was the first woman to hike the Appalachian Trail, a feat that she completed in 1955 at the age of 67, solo and in one season!
Emma was a survivor of domestic abuse, after a 30-year marriage that saw her bear 11 children and suffer numerous beatings, some of which left her perilously close to death. When her husband became violent, Emma would escape into the woods for peace and solitude.
After a long battle, Emma successfully divorced her husband in 1940, and one day told her children that she was 'off for a walk'. She had read an article in the National Geographic about the Appalachian Trail and it had portrayed it as being an easy walk with cosy, clean cabins at the end of each day. So, carrying just an army coat, rain jacket, plastic shower curtain and denim 'over the shoulder' bag, Emma set off in her tennis shoes to begin the 2168-mile hike!
Relying solely on her wits and the generosity of strangers, Emma completed the trail only to return to it within a year to become the first person to complete the through hike twice.
---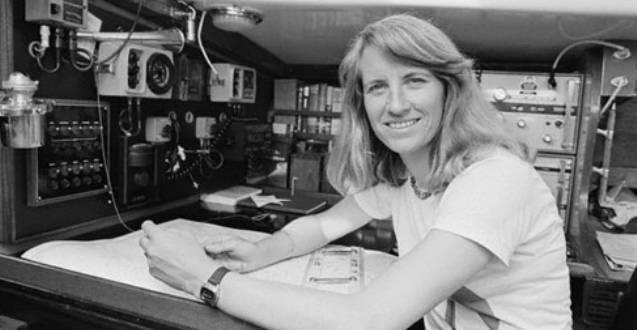 Dame Naomi James
Think of round the world sailing accomplishments and Ellen MacArthur instantly springs to mind, but it was in fact a daring young woman with only 6 weeks sailing experience who became the first woman to singlehandedly sail around the world. Naomi James was born on a land locked sheep farm in New Zealand and only learnt how to swim at the age of 23. A self confessed day-dreamer, she quit school to become a hairdresser but soon got bored, and decided to embark on an adventure to Europe. It was in France, whilst taking a stroll along the harbour in Saint-Malo, that she met her future husband and yacht skipper Rob James.
As love can so often shape your future, Naomi began learning the ropes with Rob, but it was whilst he was participating in his own boat race, that she made the daring decision to become the first woman to sail around the world. With a boat lent to her by Sir Charles Blyth, intensive sailing lessons from her husband, and sponsorship money raised by the Daily Express, Naomi James left Dartmouth on the 9th September 1977 and finished her round the world voyage on 8th June 1978 after 272 days.
In 1979 Dame Naomi James was given an OBE in recognition of her incredible achievements.
---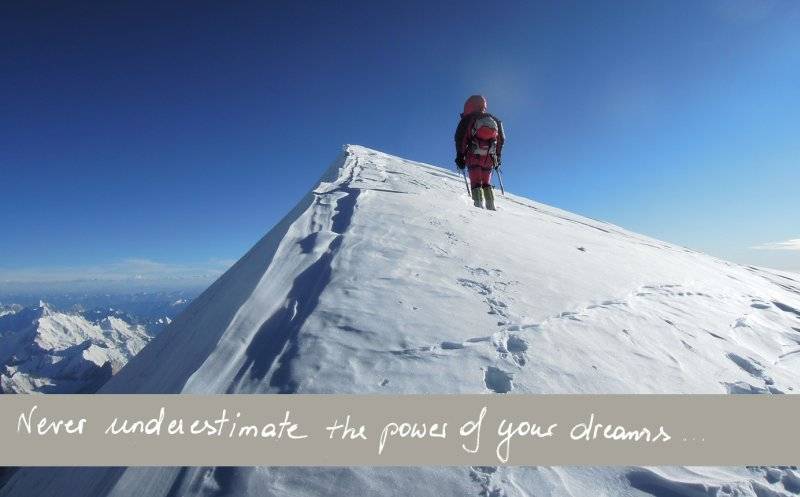 Gerlinde Kaltenbrunner
Gerlinde refers to her mountaineering achievements as an, 'inner calling that had to be answered'. It was this calling that led her to be the first woman to summit all 14, 8000m mountains without oxygen or high altitude porters.
Gerlinde was introduced to the mountains as a child and her passions revolved around ski, ice and rock climbing. Whilst working as a nurse, Gerlinde would save up her wages until she had enough to tackle her next 8000m adventure. She completed 4 this way, but after reaching her 5th summit on Nanga Parbet, she made the decision to become a professional mountaineer.
A fiercely strong and determined woman, Gerlinde has witnessed her fair share of tragedy; in particular on her 6th attempt at summiting one of the most unforgiving mountains K2. It was whilst she was on the famous Bottleneck Couloir that she witnessed her climbing partner Frederik Erricson fall 1000m to his death after he slipped whilst fixing a rope just ahead of her. Gerlinde descended after the fatality, yet returned the next year to achieve her ultimate goal, and in 2012 was named National Geographic Explorer of the Year for her incredible achievements.
---
The breadth of ladies achieving incredible things on land, sea and air is extensive and dates back to the early 19th Century. All of these women had vision, courage, and a determination to achieve their goals, no matter what. There is a phrase, 'if you can see it, you can achieve it' and these women have all played a pivotal role in demonstrating just what's possible when your heart, body and soul are resolute on fulfilling your destiny.
---
Did you enjoy this article?
Sign up to read more like this, see our latest collections, adventure invites and sneak peeks.