A Week of Camp Stove Cooks
A Week of Camp Stove Cooks
Posted at 11:00 - 9th July - Sarah Booth
It's time!
Across the nation lofts and garages are being turned upside down in an attempt to find tents, stoves, pegs, chairs, tables and shoe storage cupboards! Yes, it's time to go camping and to help you get organised we are taking care of the most important thing of all...your food.
Welcome to your week of camp stove cooks. 6 tasty, nutritious, and easy to make meals that are guaranteed to satisfy your appetite.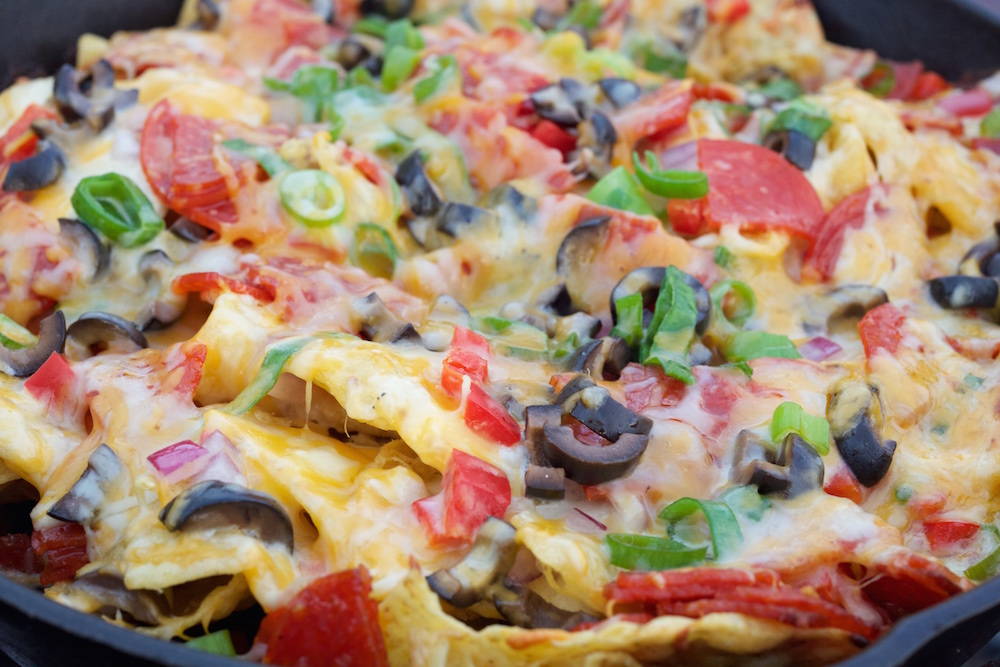 Ingredients:
Garlic Cream Sauce Ingredients:
5 Tablespoons Unsalted Butter

½ Tablespoon Olive Oil

2-3 Garlic Cloves, Minced

230mls Double Cream

60mls Milk

40g Parmesan Cheese

Salt

Pepper

Red Chilli Flakes
Nacho Ingredients:
1 Bag of Tortilla Chips

Garlic Cream Sauce (recipe above)

1 Onion, diced

60g Pepperoni, cut into quarters

60g Black Olives, sliced

1 Whole Red Pepper, diced

2 Spring Onions, sliced

120g Grated Cheddar Cheese
Directions:
Garlic Cream Sauce:
Melt the butter and olive oil in a saucepan. Once the butter is melted, add the minced garlic. Stir.

After a minute or two, add in the cream and milk. Stir until it comes to a boil.

Add salt, pepper, red chilli flakes, and cheese. Stir until sauce has thickened. Once it has thickened, remove from stove and set aside.
Nachos:
Grab a large pan and add the tortilla chips. Drizzle the garlic cream sauce all over the chips.

Top with the onions, pepperoni, olives, pepper, and cheddar cheese. The best approached is to layer it between tortilla chips so every bit gets plenty of toppings.

Place over your stove and cover. Cook until the cheese is nice and bubbly and the veggies are warm, about 5-8 minutes.
---
Sweet Potato and Peanut Stew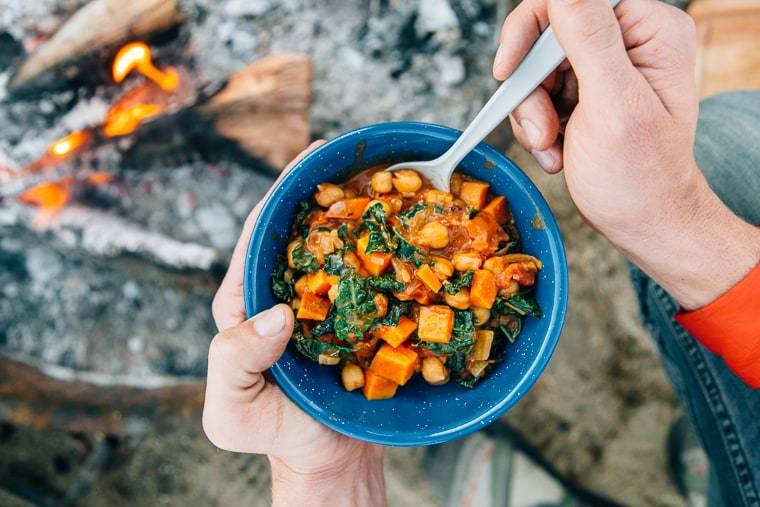 Ingredients:
1 Tablespoon Oil

1 Small Onion (diced)

2 Cloves Garlic (minced)

1 Medium Sweet Potato

400mls Vegetable Stock

400g Can of Chopped Tomatoes

2 Tablespoons of Peanut Butter

1 Teaspoon Salt

2 Teaspoons of Chilli Powder

400g Can Chickpeas (drained)

300g of Kale or Spinach
Directions:
Heat the oil in a pan over medium heat. Add the onion and saute for about 5 minutes, until translucent and just starting to brown in spots. Add the garlic and saute for another 1 minute.

Add the sweet potato, stock, tomatoes, peanut butter, chilli powder, and salt. Stir well to ensure the peanut butter is thoroughly mixed in and there's no clumps remaining. Simmer, uncovered, for about 15-20 minutes, or until the sweet potatoes are tender.

Once the sweet potatoes are tender, add the chickpeas and the kale/spinach. Stir to combine and heat until the chickpeas have warmed through and the kale/spinach has wilted.
---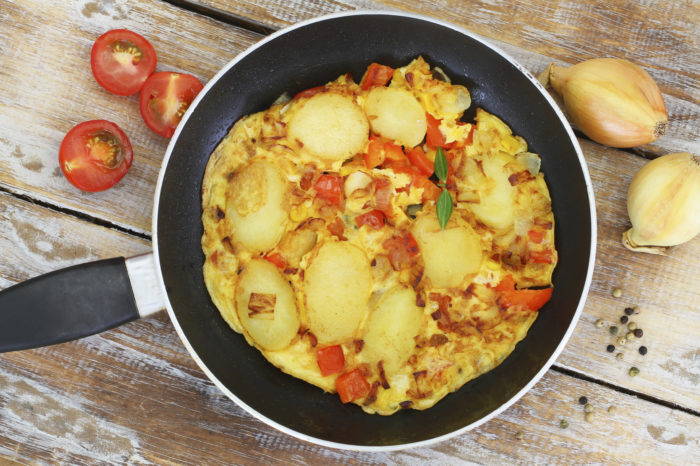 Ingredients:
2 Medium Potatoes (diced)

8 Eggs (whisked)

1 Chopped Onion

2 Chopped Peppers (your choice)

2 Tablespoons Butter
Directions:
Add 1 tablespoon of butter into your pan and heat until melted. Spread it around your pan.

Add the potatoes, onions, and peppers and cook until the potatoes are tender and the onions and peppers are nice and cooked. It takes about 20-25 minutes.

Add the next tablespoon of butter and once it's melted, add the eggs. The eggs will fill all the spaces in between the potatoes, peppers, and onions.

Cover the pan with a lid or tin foil and let it cook until the eggs are ready - about 4 minutes.
---
Lentil Sloppy Joe Burgers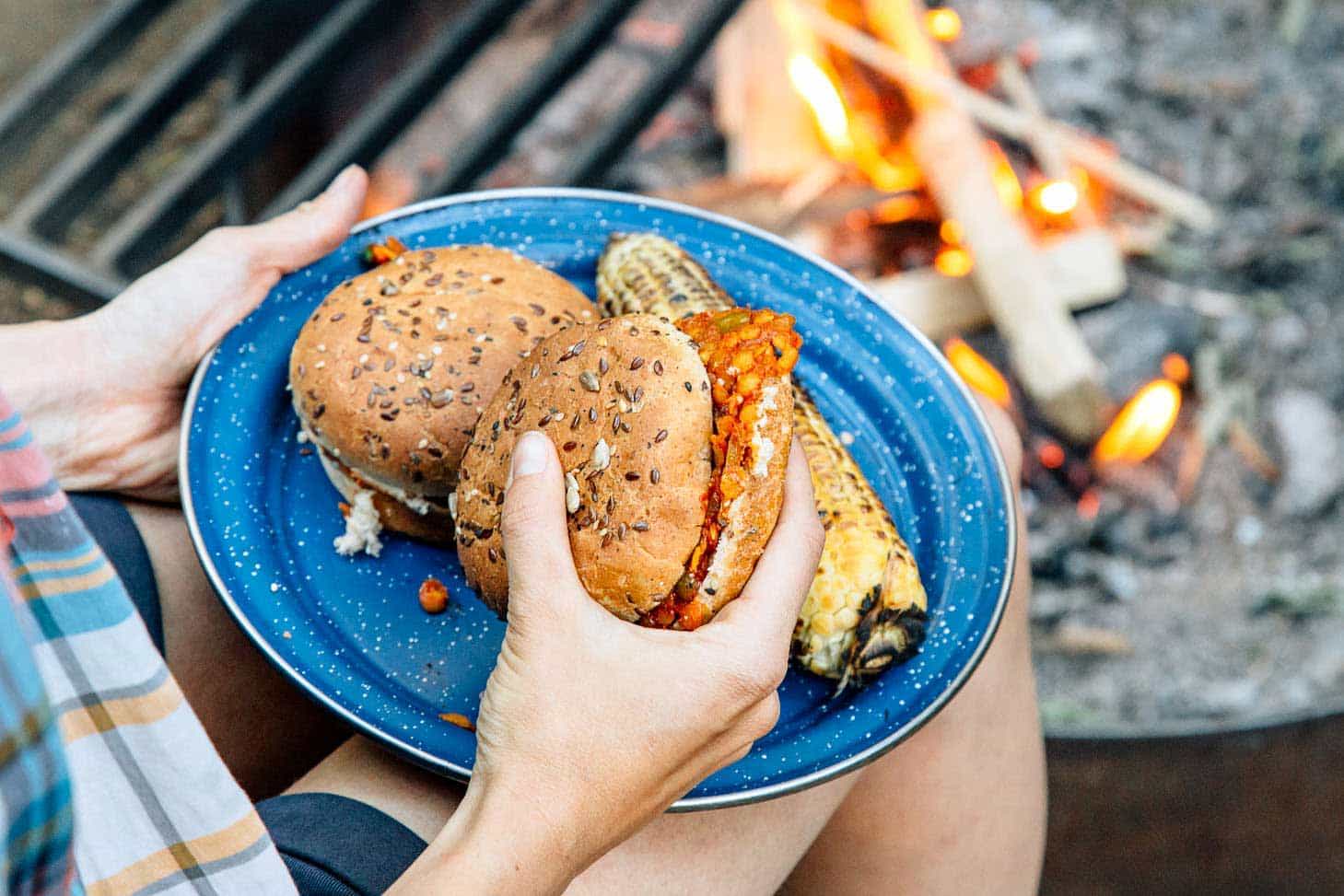 Ingredients:
½ Tablespoon Oil

1 Small Onion (diced)

1 Red Pepper (diced)

3 Cloves Garlic (minced)

100g Red Lentils

230mls Vegetable Stock

2 Tablespoons Tomato Paste

1 Tablespoon Mustard

1 Tablespoon Maple Syrup

2 Teaspoons Apple Cider Vinegar

1 Teaspoon Worcestershire Sauce

1 Teaspoon Chilli Powder

½ Teaspoon Salt
To Serve:
Directions:
In a medium pot, heat the oil over medium heat and add the chopped onions and pepper. Saute until soft and the onions just begin to turn golden, 3-4 minutes. Add the garlic and cook for 1 minute.

Add the red lentils and stock to the pot. Bring to a boil, then reduce to a simmer. Cook for about 10 minutes, stirring occasionally, until the lentils are tender but not falling apart.

Add the tomato paste, mustard, maple syrup, apple cider vinegar, Worcestershire sauce, chilli powder, and salt. Stir to combine. Simmer until the sauce thickens, about 3-5 minutes more.

Serve on toasted buns with whatever toppings and sides you love!
---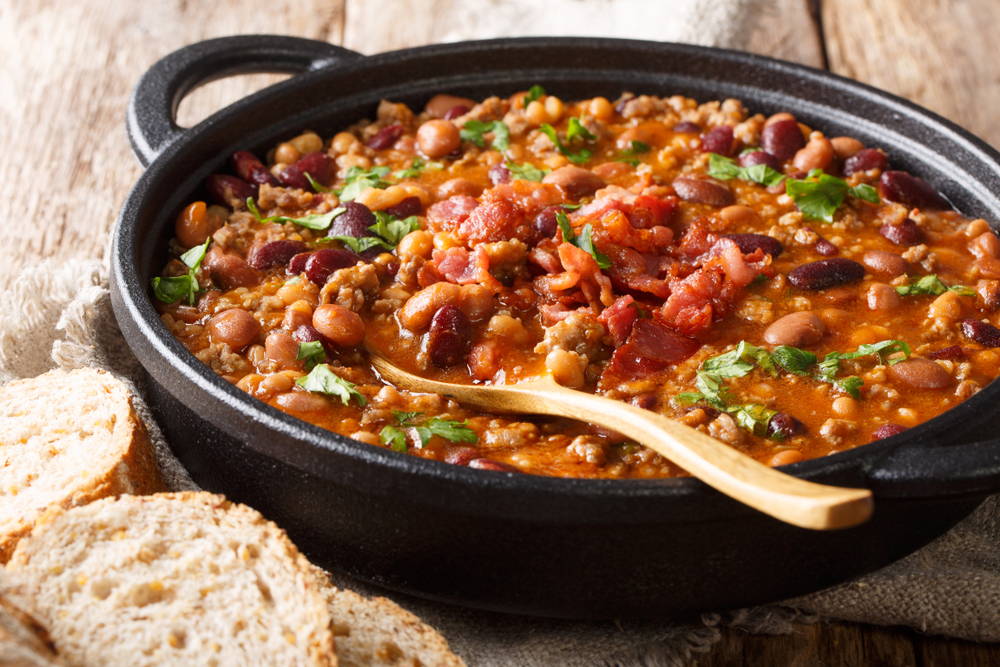 Ingredients:
8 Sausages

1 Onion

4 Garlic Cloves (chopped)

1 Chilli Pepper

1 Tin Baked Beans

1 Tin Mixed Beans (drained)

1 Tin Chopped Tomatoes

Salt & Pepper
Directions:
Slowly cook the sausages in a large frying pan, until caramelised and dark brown. Chop into chunks.

Add the onion and garlic and fry until the onion is soft.

Add the chilli pepper, all the cans and stir well.

Let the dish simmer until the sauce thickens and serve.
---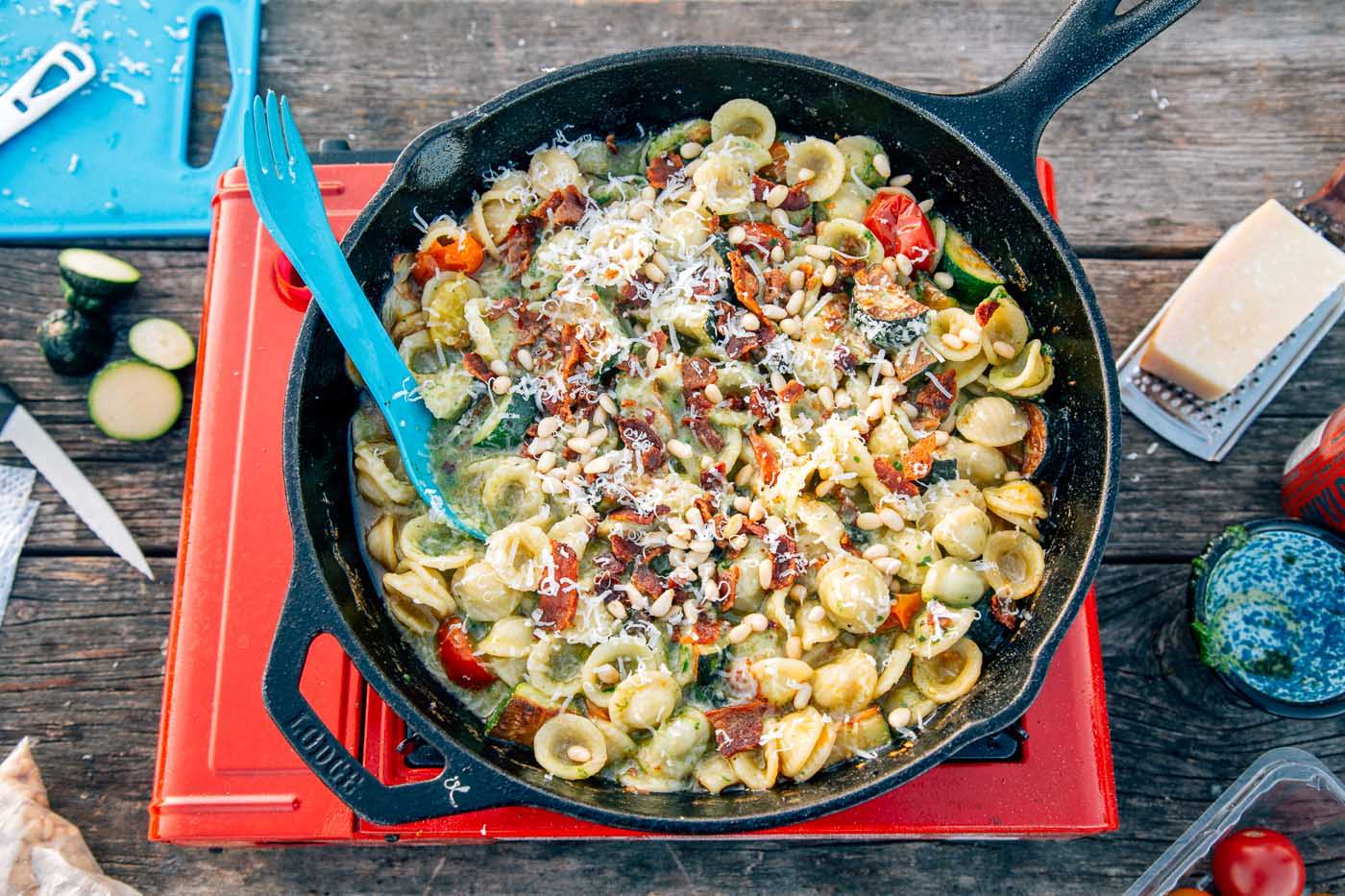 Ingredients:
6 Rashers of Streaky Bacon

1 Courgette

250g Cherry Tomatoes

400g Fusilli Pasta

Small Jar of Pesto

Parmesan Cheese
Directions:
Fry the bacon. This will render out fat into the pan, which is pretty much straight bacon flavour. Once the bacon is done, remove it from the pan, and use all that delicious fat to cook your courgette and cherry tomatoes.

When the courgette starts to brown and the tomatoes start to blister, it's time to add in the pasta. You can pour the dry pasta right into the pan, followed by a few cups of water. The water will start to boil almost instantly, so watch out for steam. The goal is to almost cover the pasta and veggies with water. As the water simmers, stir frequently to keep the pasta cooking evenly.

As the pasta cooks the water will evaporate from the pan. Additionally, the pasta will absorb some of the water while releasing starch. Once the pasta has finished cooking, you should be left with a little bit of starchy water at the bottom. This is perfect for making your pesto sauce.

Take a few dollops of pesto and stir it into the cooked pasta. Stir somewhat vigorously as this will help to create an emulsion between the starchy water and the oils in the pesto. This emulsion results in a thick sauce that clings to your pasta instead of running off.

Crumble the bacon back in, sprinkle with grated parmesan, and you're done!
Did you enjoy this article?
Sign up to read more like this, see our latest collections, adventure invites and sneak peeks.